Overhead Garage Storage Austin
Garage Monkeyz is the absolute premier company in Central Texas when it comes to services and products for garage overhead and ceiling storage. We pride ourselves on installing the sturdiest constructed units for garage ceiling storage that is second to none. We know not all racks are made the same that is why we have chosen STRONG RACKS; the Industry Leader in Stronger and Safer Overhead Ceiling Storage.
There are 7 features that put Strong Racks above and beyond the competition.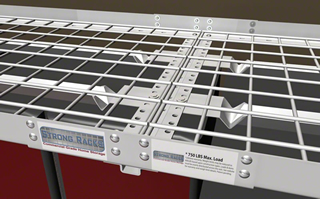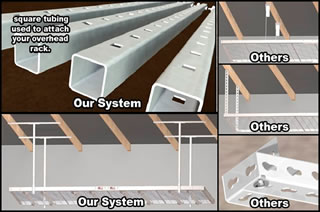 750 lbs Weight Capacity – higher than any system on the market.
4 Ceiling Beams - Each unit mounts into four ceiling beams, diffusing the load for safety. Most of our competitors mount into only two beams.
10 gauge steel - The steel used for the mounting track is 10 gauge, the thickest on the market.
Steel Tubes - We use square steel tubes (4 sides), not angle iron (2 sides) like some of our competitors.
Rail Connectors - Our rail connectors supports the side rail and reduces flex.
2" safety lip – The safety lip goes around the entire unit to prevent your belongs from sliding off.
Hardware - We use a minimum of 48 bolts for every unit for complete security.
Configurations
We offer several different-sized garage overhead storage systems to use depending on which one best suits your needs.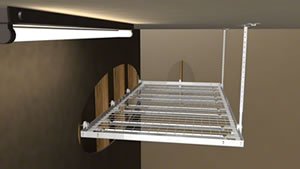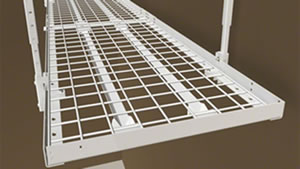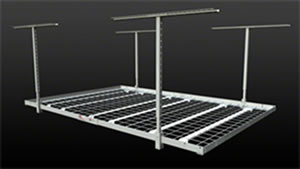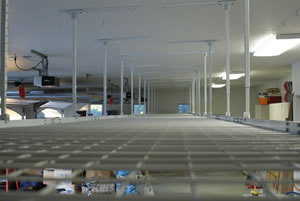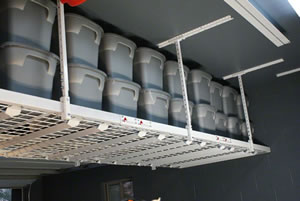 Our systems range from our very large 4' x 8' unit to our smallest 2' x 4' wall unit.
Our most common installation is two 4' x 8' ceiling mounted units in a row which creates an overhead storage system 16 feet long and 4 feet wide and can hold up to 1500 lbs. This installation is typically the best configuration in a two car garage because the units fit perfectly within the width of the garage. A three car garage typically will accommodate three 4' x 8' units.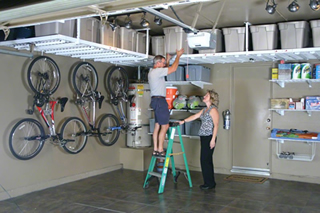 The added benefit is that these overhead storage units can be hooked together in a seamless row, creating the overhead storage space most clients need. Each unit is adjustable, coming 14 to 44 inches from the ceiling and can easily accommodate double-stacked standard plastic storage containers and lots of boxes. Accessories are available for Ladders, Bikes and Golf Bags etc.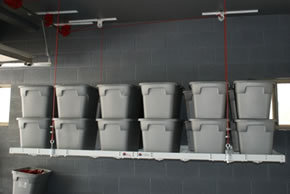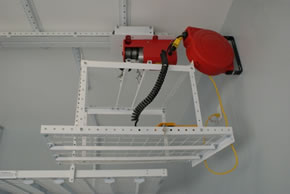 Boxes too heavy to get up? We offer a motorized box lift, as well as a motorized 4x8 unit, to keep you and your back safe.
Choose the Best
You can't beat the Security, Quality and Load Distribution of Strong Racks. And the best part is that Strong Racks is offered at the same price as our competitors! Call us for your worry-free Overhead System.
If you are looking for the Best Garage Storage Solutions in Austin or surrounding areas then look no further than Garage Monkeyz. Based in Austin we are your source for garage storage in Austin, garage flooring in Round Rock, garage shelving in Westlake or any other city in the Austin area.
Garage Monkeyz is locally owned and operated serving Austin and the greater surrounding areas: Bee Cave, Briarcliff, Creedmoor, Elgin, Jonestown, Lago Vista, Lakeway, Manor, Oak Hill, Pflugerville, Point Venture, Rollingwood, Round Rock, San Leanna, Sunset Valley, The Hills, Volente, Webberville, West Lake Hills, Anderson Mill, Barton Creek, Garfield, Hudson Bend, Jollyville, Lost Creek, Onion Creek, Shady Hollow, Wells Brach, Windemere, Del Valle, Bartlett, Cedar Park, Florence, Georgetown, Granger, Hutto, Jarrell, Leander, Liberty Hill, Taylor, Thorndale, Thrall, Weir, Smithville, Bastrop, Bertram, Burnet, Cottonwood Shores, Fredericksburg, Granite Shoals, Highland Haven, Horseshoe Bay, Marble Falls, Meadow Lakes, Spicewood, Blanco, Round Mountain, Johnson City, Bear Creek, Buda, Driftwood, Dripping Springs, Hays, Kyle, Mountain City, San Marcos, Wimberley, Woodcreek, Lockhart, Luling, Martindale, Mustang Ridge, Niederwald, Uhland, Dime Box, Hills, Giddings, Lexington, Lincoln.