Durable and Beautiful Garage Flooring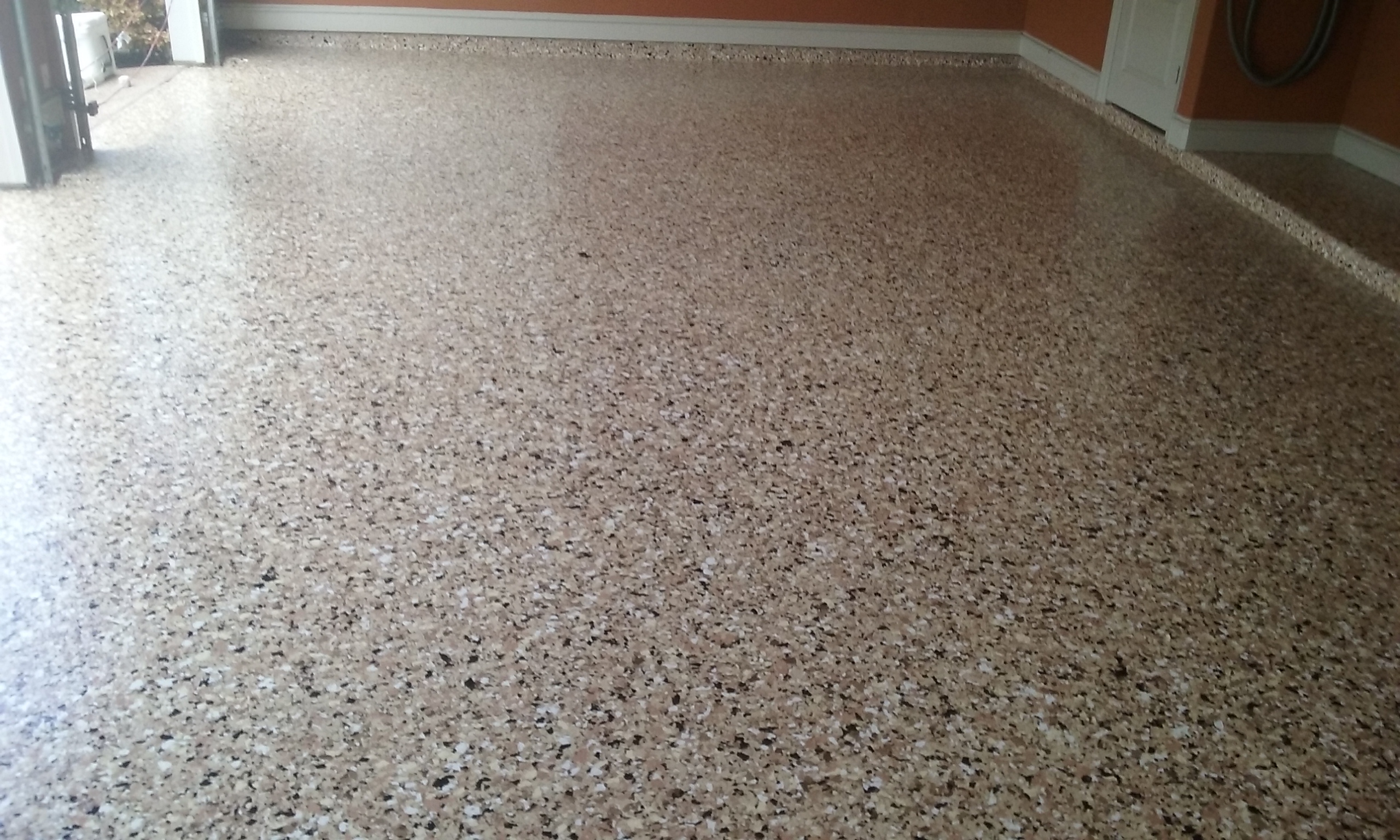 Create an Extension of Your Home
Garage Floor Coatings have quickly become one of the most sought after home improvements. A Garage Floor Coating by Garage Monkeyz will make your garage feel like another room in your home.
A garage floor coating provides a seamless finish that is easy to clean and maintain. With our garage floors, dust will be a thing of the past and spills of any kind can be wiped up easily with a cloth. The floor can be mopped with water and cleaned if needed with most household cleaners.
Thinking of selling your home? A garage floor coating can really add value by covering up your dirty worn garage floor concrete. This simple change combined with freshly painted walls can have a real impact on buyers and help you sell your home.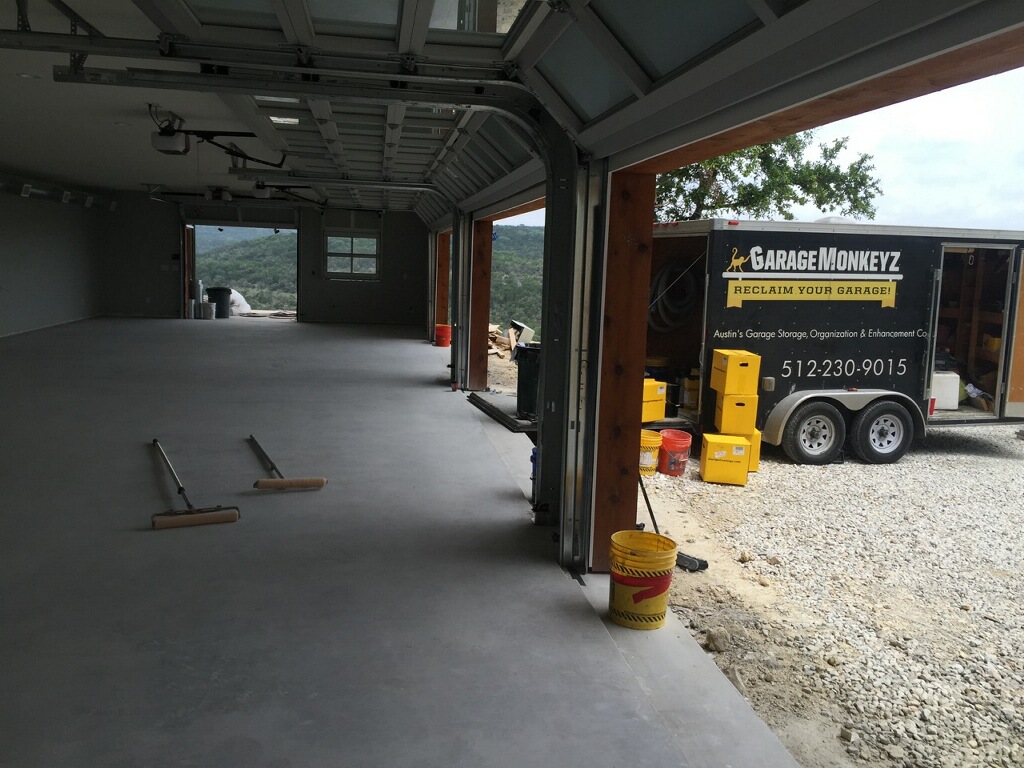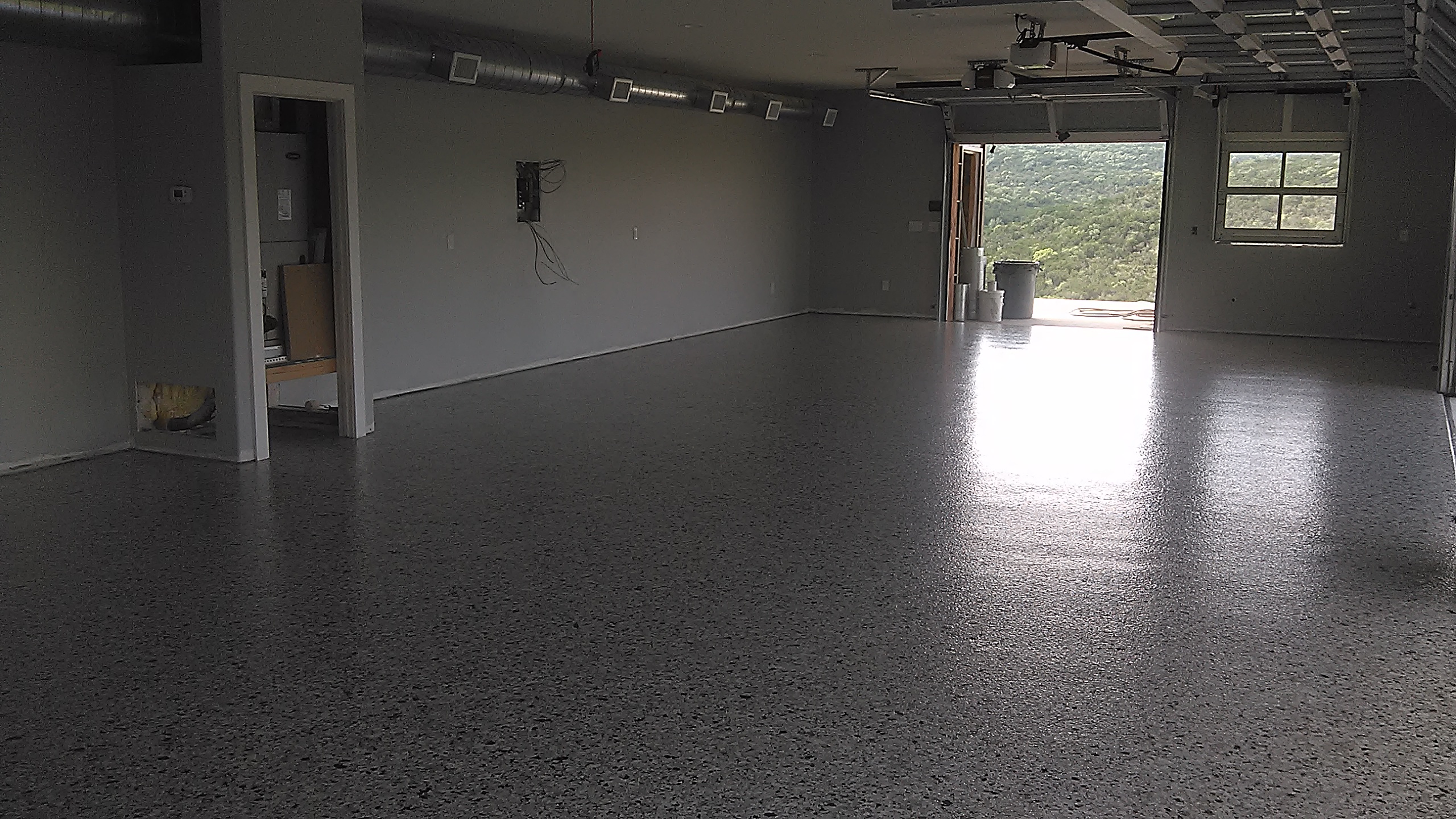 Why Choose Garage Monkeyz?
Our preparation methods are superior to those offered by most companies. We have invested in the equipment necessary to ensure a long-lasting floor coating. We do not cut corners during any aspect of the installation.


We are constantly educating ourselves and are skilled in the latest coating technologies.


We use only the finest professional grade materials on the market and provide a limited lifetime warranty to back it up.


We save you time and headaches – Our products comply with the strictest health and environment requirements – having some of the lowest VOC numbers – and upon completion of installation, you will be walking on your new floor within 3 hours and protecting your car within 24 hours – saving up to 5 days.
Preparation: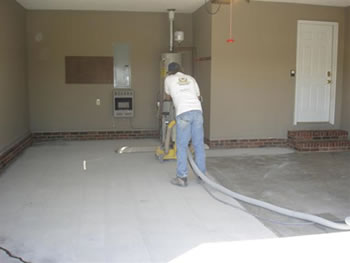 We start by re-profiling your entire garage floor with a Diamond Grinding Machine to remove residue, concrete sealers, and open up the finished floor surface. This, most importantly, opens up the pores of the concrete and allows the base coat to penetrate the surface and bind the garage floor coating to your concrete garage floor. This is necessary for both new and old construction.
Some competitors claim they grind, when in fact they acid etch the floor and only spot grind certain areas to save time. Floor scrubbers and pressure washing only removes dirt and does not provide a proper surface. Acid etching creates a mild texture, too minimal for the thick professional products to have a good bond.
* If you have an existing floor coating that is peeling, we need to be confident in the surface to which we are bonding. Therefore, we have special machinery to remove this existing coating.
Process: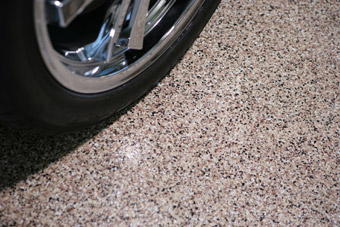 Our base coat is formulated with a very high pigment load for excellent substrate coverage and giving you the boldest color. We then extend a full broadcast of chips to obtain that highly desirable granite finish. We seal the chips and finish with a top-coat of polyurea, to give you a glossy, protective layer against hot tire pick up. It is absolutely top quality, chosen for commercial business, automotive facilities, hangers and showrooms because of its durability and lasting luster. We feel as though residents should be privy to this quality as well. Most companies don't offer polyaspartics because contractors find them difficult to work with such a fast cure time and they are expensive. We have invested the time to understand this coating because the benefits can't be beat!
3x stronger and more durable than epoxy
Rapid Curing – 3 hours to walk on and 24 hours for you to park back in the garage
Thick coating due to 100% solids (up to 18 mils in a single coat)
Highly chemical, abrasion, impact and wear resistant
UV stable, Non-yellowing, optical clarity like water
Flexibility and adhesion – perfect for new concrete pours as it adjusts through its first year of seasons.
Low odor – No harmful fumes
Low to zero VOC's (No volatile organics)
Crystal clear – does not blush white from moisture in the concrete
Superior color and gloss retention
Variety of Coatings
Click on images to see ALL Colors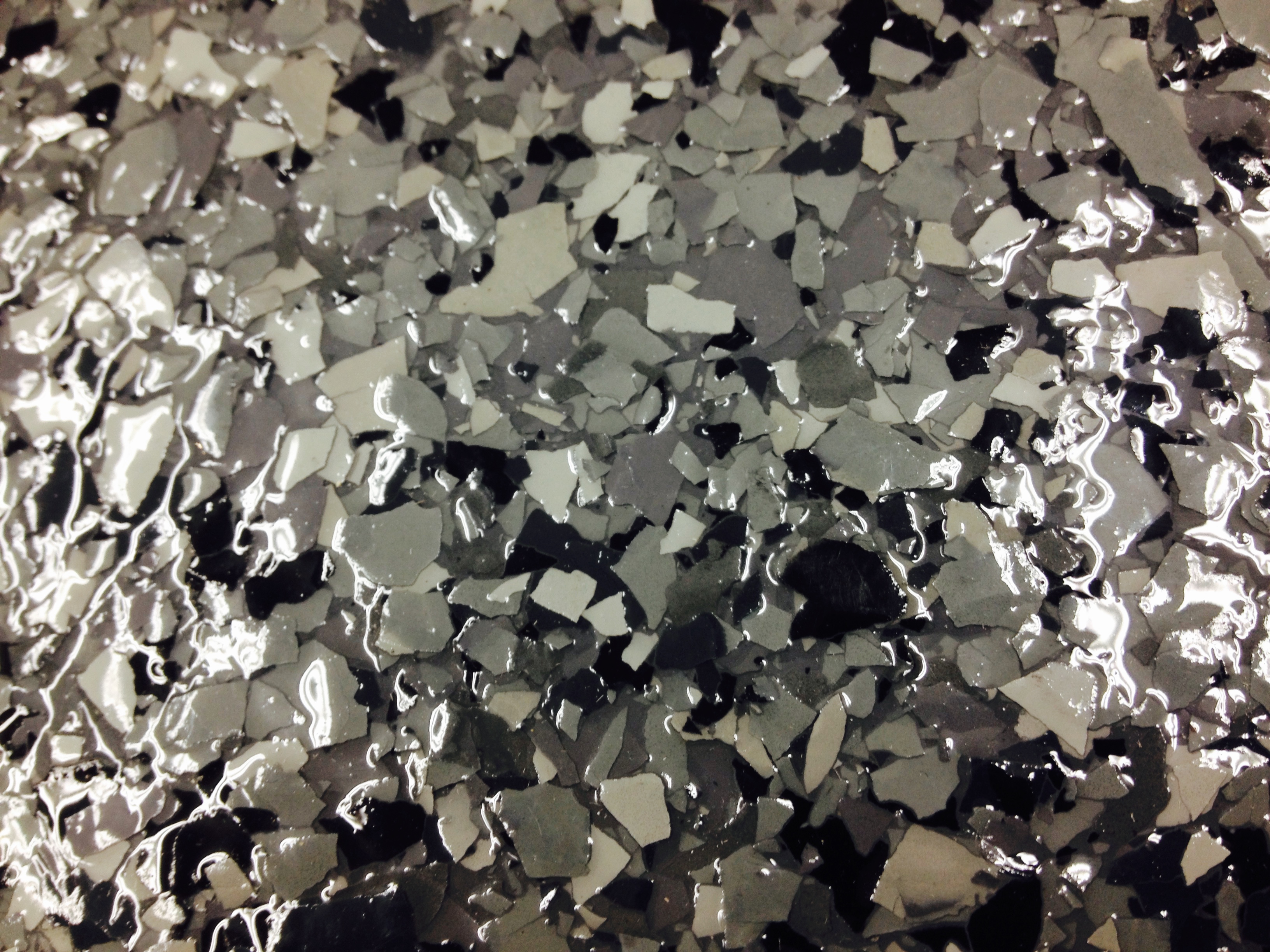 Granite Floor Coating
most common, slip resistant due to full coverage of vinyl chips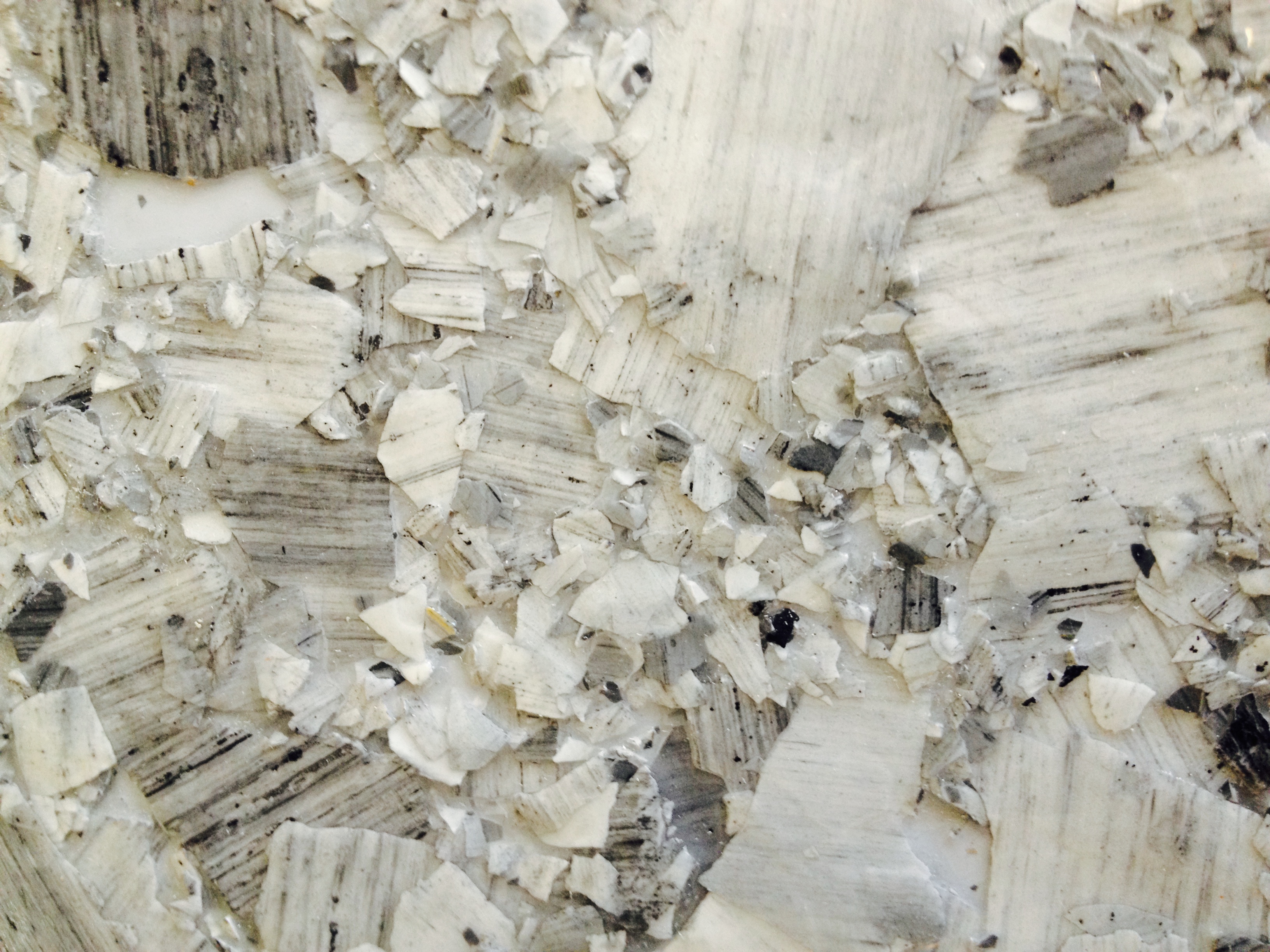 Brindle Floor Coating
slip resistant like the granite chips, but each flake has its own unique characteristics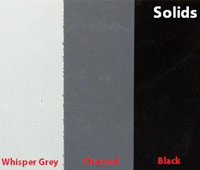 Solid Color Floor Coatings –
simple and classic

We can also provide you with virtually any color scheme to meet your needs as a special order.

Let one of our consultants help you determine your garage flooring needs. When you want the best, give us a call and let us provide you with flooring that will make walking into your garage a special experience!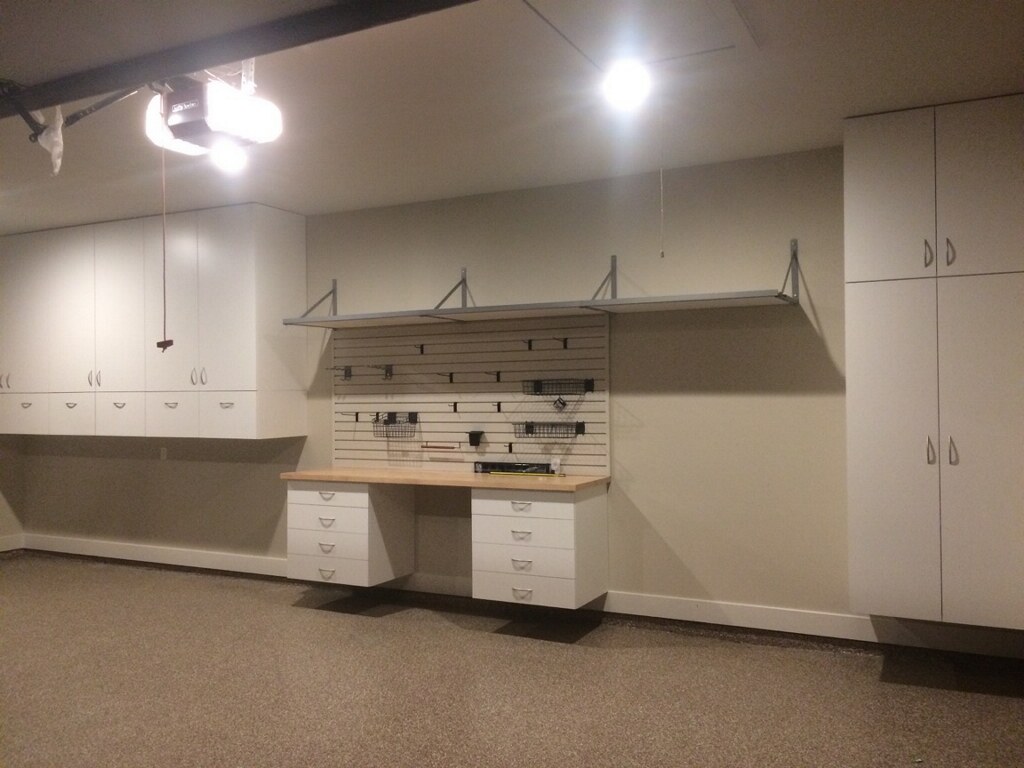 Custom Modular Flooring Tiles
Swisstrax is a fun, easy, and effective way to transform your floor in hours! These revolutionary interlocking tiles are purposed to quickly cover cracks, stains, damaged epoxy or just plain old boring concrete! Designed with the finest Swiss engineering, Swisstrax tiles are the only modular tile on the market to feature a proprietary 4 point injection molding process. This process ensures that every tile has maximum material distribution, edge to edge and corner to corner. It's just one of the many quality components that set Swisstrax apart from any other standard modular tile.
Why Choose Swisstrax?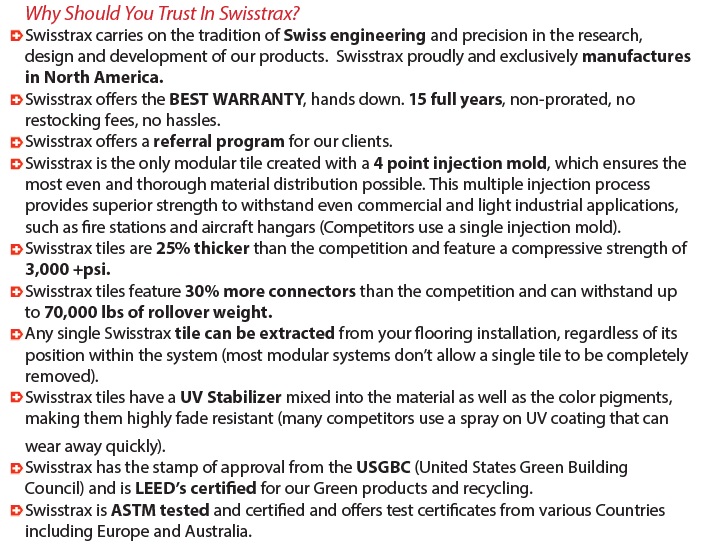 Variety of Floor Tiles
Click on images to see ALL Styles and Colors
We are ready to install your new modular tile flooring!

Garage Flooring in Austin and Surrounding Areas
If you are looking for the Best Garage Storage Solutions in Austin or surrounding areas then look no further than Garage Monkeyz. Based in Austin we are your source for garage storage in Austin, garage flooring in Round Rock, garage shelving in Westlake or any other city in the Austin area.
Garage Monkeyz is locally owned and operated serving Austin and the greater surrounding areas: Bee Cave, Briarcliff, Creedmoor, Elgin, Jonestown, Lago Vista, Lakeway, Manor, Oak Hill, Pflugerville, Point Venture, Rollingwood, Round Rock, San Leanna, Sunset Valley, The Hills, Volente, Webberville, West Lake Hills, Anderson Mill, Barton Creek, Garfield, Hudson Bend, Jollyville, Lost Creek, Onion Creek, Shady Hollow, Wells Brach, Windemere, Del Valle, Bartlett, Cedar Park, Florence, Georgetown, Granger, Hutto, Jarrell, Leander, Liberty Hill, Taylor, Thorndale, Thrall, Weir, Smithville, Bastrop, Bertram, Burnet, Cottonwood Shores, Fredericksburg, Granite Shoals, Highland Haven, Horseshoe Bay, Marble Falls, Meadow Lakes, Spicewood, Blanco, Round Mountain, Johnson City, Bear Creek, Buda, Driftwood, Dripping Springs, Hays, Kyle, Mountain City, San Marcos, Wimberley, Woodcreek, Lockhart, Luling, Martindale, Mustang Ridge, Niederwald, Uhland, Dime Box, Hills, Giddings, Lexington, Lincoln.