Austin Garage Cabinets
Garage Monkeyz offers well built durable garage cabinets that provide functionality and practicality. Each of our cabinets will fit your garage environment perfectly, turning your cluttered, messy garage into a well-designed garage space with an abundance of storage choices.
Standard Garage Storage Cabinets
Quality & Value
Our quality, variety and price of garage cabinets are unmatched in the Austin area. We can design beautiful cabinet systems to fit most budgets. For the money, these can't be beat!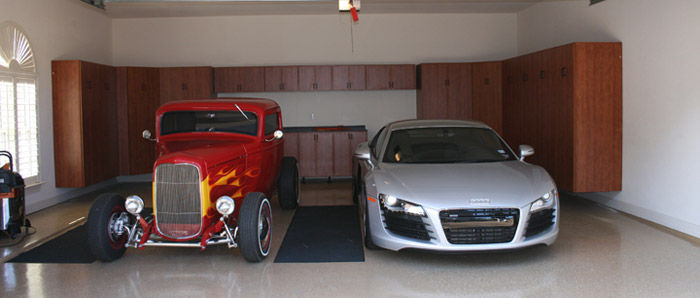 Unique Cabinet Features

A steel mounting track is secured directly into the studs using heavy duty lag screws. The cabinets are then hung on the track with a mounting rod. Each cabinet can support 300 pounds of total weight. All cabinets feature European hinges optimizing performance and quality, assuring doors will hang straight and open easily for years to come.
Wall Mounted Advantage

Wall mounting protects the cabinets from moisture, makes the floor easy to clean, and eliminates areas for unwanted pests to nest.
Cabinet Construction

The cabinet box, doors, and shelves, are built from ¾" thick material. The finish is thermo fused onto the material, making it durable and easy to clean.

The cabinet box and shelves are constructed by using Dove Tail Joints, which is the strongest and most permanent joint made in carpentry. It is proven to be much stronger than using screws or fasteners.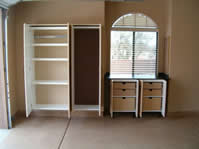 Variety of Sizes & Configurations
Our cabinets are available in a variety of sizes and configurations. We can design Work-Spaces, Wardrobe Features, Pegboard Interiors, Golf Club Storage, Drawers, Bins; just about anything you need.
Sizes: 1', 2' and 3' widths
Depths: 12", 16" and 24" depth
Height: 1 ½' to 6' feet

Cabinets Finishes
Our Garage Cabinets are available in a variety of finishes including White, Light Maple, Almond, Gray, Dark Woodgrain and a Natural Finished MDF (ready to be painted or stained). We can have these cabinets ready in about a week.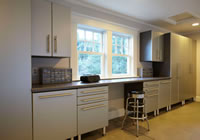 Contemporary Storage Cabinets
The Ulti-Mate line of Storage Cabinets are contemporary styled cabinets that are available in two distinct quality levels, and price points. Ulti-Mate Pro Garage is the top of the line version which has significant added features, while the Ulti-Mate Garage is a mid-level Cabinet at a lower price point.
Ulti-Mate Contemporary Storage Cabinets
The Ulti-mate and the Uli-mate Pro are both finished with a durable metallic Polyurethane (PU) coating over heavy duty MDF doors and drawer fronts. Ra¬dius edges, ergonomic handles and Euro hardware provide a durable, high end designer look.
They are available with Professional Installation by Garage Monkeyz or Do-It-Yourself versions. They can be purchased individually or in packages for additional savings. (Installation requires a minimum purchase.)
Ultimate Pro Garage – Professional Quality Top of the line version (click to learn more)


---
Garage Cabinets in Austin and Surrounding Areas
If you are looking for the Best Garage Storage Solutions in Austin or surrounding areas then look no further than Garage Monkeyz. Based in Austin we are your source for garage storage in Austin, garage flooring in Round Rock, garage shelving in Westlake or any other city in the Austin area.
Garage Monkeyz is locally owned and operated serving Austin and the greater surrounding areas: Bee Cave, Briarcliff, Creedmoor, Elgin, Jonestown, Lago Vista, Lakeway, Manor, Oak Hill, Pflugerville, Point Venture, Rollingwood, Round Rock, San Leanna, Sunset Valley, The Hills, Volente, Webberville, West Lake Hills, Anderson Mill, Barton Creek, Garfield, Hudson Bend, Jollyville, Lost Creek, Onion Creek, Shady Hollow, Wells Brach, Windemere, Del Valle, Bartlett, Cedar Park, Florence, Georgetown, Granger, Hutto, Jarrell, Leander, Liberty Hill, Taylor, Thorndale, Thrall, Weir, Smithville, Bastrop, Bertram, Burnet, Cottonwood Shores, Fredericksburg, Granite Shoals, Highland Haven, Horseshoe Bay, Marble Falls, Meadow Lakes, Spicewood, Blanco, Round Mountain, Johnson City, Bear Creek, Buda, Driftwood, Dripping Springs, Hays, Kyle, Mountain City, San Marcos, Wimberley, Woodcreek, Lockhart, Luling, Martindale, Mustang Ridge, Niederwald, Uhland, Dime Box, Hills, Giddings, Lexington, Lincoln.